Step 1. Get a Running Power Meter
My recommendation in order of preference.
(I have no affiliation with any company)
*Important for stryd users* Set your watch to use the Stryd as your pace and distance device. Garmin, Coros, Suunto, Apple watch & Polar does it automatically.

Step Two. Run with Your Power Meter.
Have power displayed on your main watch screen along with pace and heart rate to get an idea of how your power outputs relate to your pace and heart rate.
Try doing some runs where you only run to power, and ignore pace and heart rate.
Try my running power 3km-5km PB training plan for $19, available on trainingpeaks.
Step Three. Start Logging Your Data
The more data you have, the easier it is to analyse trends and build an appropriate training plan specific to your needs.
I recommend logging your data with dedicated software.
The free version is fine. When you begin to analyse your data, you'll want to upgrade. Stryd Powercenter is ok, but their analysis features are weak, and you can't bulk export your data should you want to move to another software later.
Step Four. Set Your Critical Power
Dr Will's 1 & 5 test.
1km All-Out
3 Days rest/easy
5km Time Trial or Race (i.e. Parkrun)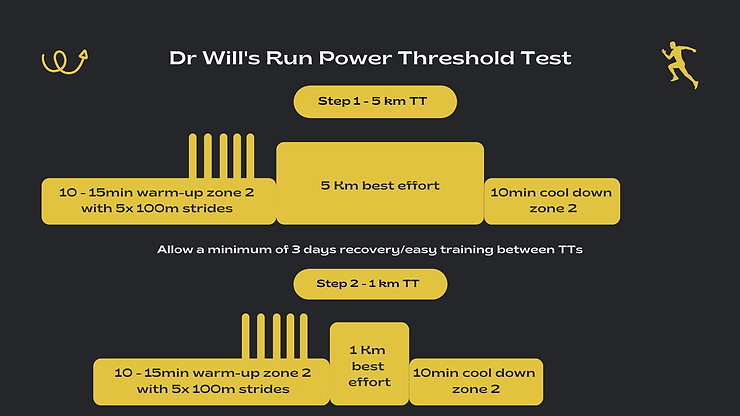 I have a calculator and description of the 1 & 5 test in another blog
HERE
.
Step Five. Set-up Your Zones
Stryd will automatically set your zones based on your critical power, but I suggest using my system for better accuracy. I have a full run down of my training zones HERE
Points to Note
Trail running will have lower average power.
Normalised power isn't available for running power (in real-time). Stairs and super steep sections that require large metabolic power will read as low biomechanical power.
Downhills & Uphills.
Muscle recruitment patterns are different on the flat, so your power heart rate relationship can be quite different.
Action Points
Start using power.
The sooner you use running power, the more data you'll have, and when you come to learn how to interpret the data, the better insight you'll have to your running.
Understand the basics.
Critical Power (Threshold) and "% of Critical Power" (training zones). I.e. I can hold 90% of my CP for 90min.
Want to Learn More?
Follow me on social media; @drwilloconnor
Listen to my podcast. How to Run with a Power Meter
Take my Running with Power online course.
Hire me for one-off consults or ongoing coaching. Use the "Coaching" tab.
Share