Starting Point
First and foremost, a good starting point is to figure out a realistic time goal for each leg of the race. These goals should be based on a couple of points:
Previous Races

Look at your past triathlon results and find someone who has finished near you in each leg and who you know has done IMNZ. Look at their results and use that as a ballpark.
Time Trials
Swimming = 200m + 400m (Calculate your CSS)
Cycling = 20min Power test or 1hr heart rate speed average
Running = MAF test (read about the 180 formula here)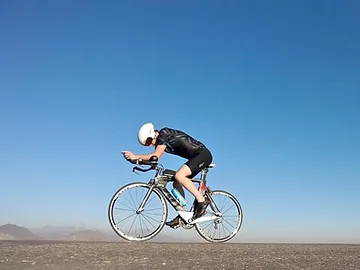 Be Honest with Yourself
Too many athletes make the mistake of overestimating their abilities. If your predicted times seem slower than you expect, remember this is a 3.8 km swim, 180 km bike and 42.2 km run. You will not be dramatically faster than your previous results predict. Once you have a realistic time goal for each leg, you can now target these times in training and test your progress. Let's say you've predicted your swim to be 75-80 min. That's an average pace of around 1:55-2:05 min/100m. Can you comfortably swim that for 2 or 3km in the pool without stopping? If you can swim it in the pool for 2km, then you can swim it in a wetsuit in a bunch for 3.8km. If you can't get close to your predicted/goal time for 2km in the pool, then adjust your goal! You need to complete the swim comfortably and without stress. That energy is needed for the marathon. Your swim training should focus on distance and technique. Keep in mind that regardless of whether your technique is good or bad, you still need to swim 3.8 km, so don't overdo technique drills at the expense of swim conditioning.
All About the Bike
As an age-group athlete, the bike is the most time important portion of the triathlon to train for. It is worth around 60% of your total finishing time. Just because you think you'll ride 7 hrs doesn't mean you need to ride 7 hrs every weekend. You'll most probably get next to nothing out of it for a couple of reasons: (1) You'll be training too slow and (2) you'll get too tired. Remember consistency is the name of the game – ten weeks of a weekly steady-state 4 hr ride is going to do more for you than two weekends of 6-7 hrs followed by one week on the couch hating yourself for missing training because you're too tired. If you mix your steady-state long ride with some weekly aerobic threshold rides and strength efforts you'll be golden. A couple of times in your build-up, you will need to ride for the duration you're expecting to ride in the race, to test your hydration, pacing and nutrition strategies, your comfort on the bike and of course mental confidence.
Run for the Doe
Running is going to be a juggling act of not getting injured while still running lots. This is where the late great Arthur Lydiard and his theory of aerobic consistency comes in. If you cannot consistently train week in, week out, for at least 10 weeks before your race, you will struggle to induce enough chronic fatigue in your muscles. Without this deep fatigue, your training adaptations will only be good enough for 5-6 hrs total. In this instance, it's important to remember that ultra-endurance is all about 'not slowing down'. This is essentially the opposite of what most training programs are focused on and is where my philosophy differs from many other training systems out there.
For an Ironman triathlon, you can already run faster than you will in the race, so your focus should be on sustaining YOUR pace, after already having exercised all day! The best means of doing this is utilising the run-walk method. I've been able to run a marathon in 2hr 46min by introducing short walking breaks that allowed me to ingest nutrition, assess my effort and recruit different muscles (read about it here). Do you think you can run an Ironman marathon without needing to stop? If your answer is no, which it should be, then you might as well plan for the inevitable and starting walking early so you can keep running later. One long run (2-2.5hrs) and a couple of other short 1 hr runs, both by themselves and off the bike, will get you through the marathon.
Training, Sleep, Eat, Repeat
In addition to your training, it is also important to sleep well and eat well. Without a good sleeping pattern, you'll struggle to get the adequate recovery and run the risk of injury and/or burnout. The best diet advance I can give is to avoid sugar. Simply look on the back of the packet and if it has over 6g of sugar per 100g don't bother. If it doesn't have a packet but has high sugar content (i.e. apple) then it's all good. I'd also recommend trialling a low carbohydrate diet but that's another story for another day!
Share